>> Wednesday, March 5, 2014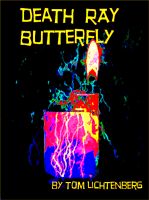 Inspector Stanley Mole doesn't mind a hard case, but things have gotten out of hand. There's a killer who escapes to a parallel universe, a frozen caveman with a bullet in his skull, a woman who claims to have witnessed her own murder, a toddler assassin, time-traveling dictators, and subatomic-particle sniffing butterflies. For Mole, this time more than just his reputation is on the line.
About Tom Lichtenberg
"Author of curiously engaging novellas. His stories are not driven by action but by mood and metaphysics. His premises often begin with fairly standard, often vaguely science-fiction concepts, but he spins those concepts out into melancholy, thoughtful tales in which he explores the emotion and (often) dislocation that people feel when confronted by something outside their normal experience." - Devon Kappa
Price: Free!
Download:
epub
|
mobi (Kindle)
|
pdf