>> Friday, October 31, 2014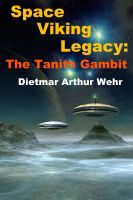 This new sequel to H. Beam Piper's classic novel Space Viking continues the epic story of revenge, redemption and lust for power. Fleets are massing in preparation for the full scale war between the emerging Space Viking Empire and the handful of planets that have not yet sunk into barbarism. Piper's original (and free) Space Viking can be found at gutenberg.org
This EPIC tale of revenge, redemption and lust for power continues in this new sequel to H. Beam Piper's classic space opera novel, Space Viking. Fleets are massing in preparation for the full scale war between the emerging Space Viking Empire and the handful of planets that have not yet sunk into barbarism. Can Prince Trask's daring Tanith Gambit prevail against the 200+ Space Viking battleships, that are moving against him? Realistic space battles and strategic/technological/political/economic plot threads will appeal to fans of David Weber's Honor Harrington series.
About Dietmar Arthur Wehr
Dietmar Arthur Wehr began his working life attempting to climb the corporate ladder as a Financial Analyst. Along the way, he realized that he didn't want to work the outrageous hours needed to reach Upper Management. By the time he reached his upper 50's, it was obvious that he needed to change careers. He decided to write the kind of military science fiction that he loved to read. With David Weber's Honor Harrington as his inspiration, he has embarked on a journey to write The Synchronicity War series after paying homage to his favorite dead author, H. Beam Piper by writing 3 1/3rd sequels to a couple of Piper's novels.



"I write because you can never get too much Space Opera."
Price:
$3.50

USD
First 10% Sample:
epub
mobi (Kindle)
lrf
Read more...