>> Thursday, October 30, 2014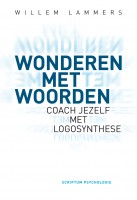 Je zegt één zin en je voelt hoe angst, boosheid of schaamte uit je bewustzijn verdwijnen. Stel je voor hoe de oorzaken van pijn en verdriet je niet meer kwetsen en je lichaam zich ontspant. Logosynthese is een verrassend nieuw systeem voor zelfcoaching. Het gebruikt de kracht van woorden om negatieve overtuigingen op te lossen, angst, verdriet, schaamte en schuldgevoelens los te laten.
Logosynthese is een nieuwe, efficiënte methode om beter om te gaan met de valkuilen, blokkades, versperringen en wegomleggingen op je levenspad. Je leert om jezelf te coachen, of beter nog: om je door je Zelf te laten coachen. Jouw eigen Zelf, je Essentie, is namelijk de beste coach. Het Zelf heeft steeds een helder doel voor ogen, het is volledig in contact met mensen, het weet wanneer het hulp nodig heeft maakt zichzelf niet afhankelijk, en het kan en wil leren. In onze huidige op effectiviteit en efficiëntie gerichte maatschappij is een dergelijke coach goud waard. Jij hebt hem al en hij is er altijd voor jou.

Logosynthese helpt je om die coach in jezelf te ontdekken en het contact met het eigen, ware Zelf, te herstellen.

Met deze eenvoudige maar doeltreffende methode kun je gericht werken aan het oplossen van alledaagse problemen maar ook diepere levensvragen: Hoe maak ik tijd en energie vrij voor de leuke dingen in het leven? Hoe verbeter ik mijn prestaties en werk ik effciënter? Hoe herken en bereik ik mijn levensdoelen?

Je bevrijdt jezelf van emotionele beschadigingen, verstarde gedachten en vastgeroeste gedragspatronen. Zo kun je je leven fundamenteel veranderen.
About Willem Lammers
Willem Lammers, MSc, DPsych, TSTA, is a chartered clinical and social psychologist, a psychotherapist, and a consultant to people and organisations. He also certified as a Teaching and Supervising Transactional Analyst (TSTA) and as a Doctor in Psychotherapy by Professional Studies at Middlesex University. Since 1987 he has been leading a large training institute for coaching, counselling and supervision, ias AG, now in Bad Ragaz, Switzerland.



In his training, practice and teachings, he spent many years on the interface of body, mind and spirit, in systems like transactional analysis, NLP, the Reconnection, the Monroe Institute, and Energy Psychology. In 2005, as a result of these explorations, Willem discovered Logosynthesis and has been developing and training it ever since.



Willem runs a private practice for psychotherapy, supervision and coaching. His teaching activities are taking him to many countries in Europe and overseas. Willem is the author of five books and numerous articles in the field.
Price:
$11.99

USD