>> Monday, April 20, 2015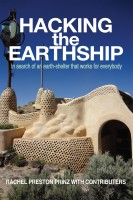 Hacking the Earthship: In Search of an Earth-Shelter that Works for EveryBody is a comprehensive collection of academic and in-the-field research findings on Earthships, combined with practical how-to advice for designing and financing your own truly sustainable earth-sheltered home.
Author Rachel Preston Prinz and contributing authors discuss the history, research, design issues, and evolution of Earthships, drawing on the knowledge of thousands of builders, craftsmen, and designers who have mastered the art of earth sheltering. Then, they walk readers step by step through design, offering a wealth of resources that can inspire, inform, and educate. Within, readers will find the tools needed to understand their place's culture, architecture, and climate... and the ideal building methods for their climate, personality, values, and budget.
THE NEW GENERATION OF EARTHSHIP ENTHUSIASTS:
• Does not want to cart questionable building materials long distances and call it "green".
• Wants to build locally and naturally… and they want to build it themselves.
• Wants their buildings to be cool in summer, warm in winter, the humidity to be predictable and regular; and they want to minimize pests and allergens.
• Wants to be able to get a permit and insurance, and resell their homes if they want to; or pass them on if they can.
• They want a smaller home that is "just right"… for their budget, time, ability, energy use, and maintenance.
• They want to make their home easy to manage, maintain, and get around in, even if they are in a walker or wheelchair.
• They want their home to feel like it is made from and relating to the earth: in views, in light, in fresh air, in the ability to grow food, and in a beautiful landscape that supports the home.
Finding the balance between all these desires is a delicate and lengthy process of discernment, study, and goal-setting. That is what this book aims to help you do.
Chapter 1 THE EARTHSHIP REALITY PROJECT discusses the issues and resolutions of the design.
Chapter 2 THE SCIENCE: ACADEMIC RESEARCH AND TIRE OFF-GASSING reviews academic and scientific research.
Chapter 3 A WAY FORWARD discusses financing and insurance, minimizing waste, managing the complexities of the build, visioning, and Code requirements.
Chapter 4 THE BUILDING'S CONTEXT AND SITE addresses the site and landscape.
Chapter 5 DESIGNING FOR THERMAL COMFORT addresses natural, mechanical, and design options for improving thermal performance. Topics covered include passive solar design; thermal mass versus insulation; earth-coupling versus earth-sheltering; thermal and moisture protection; and natural ventilation.
Chapter 6 THE STRUCTURAL SYSTEM addresses the ways we can form the building's structure.
Chapter 7 THE ENCLOSURE SYSTEM outlines the construction of the building's envelope or skin. We discuss traditional earthship building blocks like tire, glass, and can walls, as well as alternative systems like adobe, cob, rammed earth, earthbags, wood block concrete forms, timber frame, log, cordwood, and strawbale buildings. We also cover various roofing options as well as doors and windows.
Chapter 8 ROOMS, SPACES, COLORS, & TEXTURES discusses how we can create a home we love.
Chapter 9 MECHANICAL SYSTEMS outlines basic mechanical, electrical, and plumbing considerations, especially on-grid systems since those are what make an Earthship most affordable.
Chapter 10 IMBUING SPACE WITH SPIRIT - "The WooWoo Chapter" addresses psychological and spiritual aspects of design and covers topics including psychology of space and color, locating power spots, astrologically-correct timing, and Feng Shui and Vaastu.
Chapter 11 CONCLUSION: A NEW SET OF EARTH-SHELTER BUILDING CRITERIA
Chapter 12 OVERWHELMED? NEED HELP? discusses some helpful tips if you hire an architect or residential designer .
The APPENDICES offer resources and worksheets.
Portions of the proceeds will go to our non-profit architectural education programs ARCHITECTURE FOR EVERYBODY and BUILT FOR LIFE.
Contributors include: Debra Bailey, Carrie Christopher, Michael Curry, Richard Flatau, Sigi Koko, Shannon Colvin Matteson, Chiara Riccardi, Maggie Schlarb, Steve Scott, Craig Schreiber, Asha Stout, & Pratik Zaveri
About Rachel Preston Prinz
Rachel Preston Prinz is an architecturally-trained American designer, preservationist, documentary filmmaker, and artist working in sustainability and architectural engagement. She graduated with a Masters of Architecture and Certificate in Preservation from Texas A&M in 1998. After working in traditional architectural firms for more than 10 years, Rachel started Archinia in 2007 so that she could live her dream of promoting the craft of architecture and the Genius Loci, or Spirit of Place, especially pertaining to U.S. Southern, Mountain, and Southwest indigenous, vernacular, and modern design.
Rachel has served as a preservation commissioner in Taos, as the host of the UNM-Taos Sustainability Institute, and as co-host of TEDxABQWomen. She has won the Echoing Green Work on Purpose challenge and has been named a Green Guardian. Rachel has given multiple TEDx and Pecha Kucha talks on modern applications of vernacular design and critical regionalism, landscape preservation, pattern languages, and photography and Epicureanism. She has given more than 40 presentations, tours, and lectures and written nearly 70 articles integrating archaeology, architecture, place, culture, and emerging trends in sustainability.
Rachel's work has been featured on HGTV's "You Live in WHAT?", NMPBS' "Colores!", "Home made" on Canadian PBS, and she's been a featured guest on radio and television, including CBS Radio Women's Media Center live with Robin Morgan, Women's Focus, New Mexico PBS, PBS, CBS, Good Morning Vail, and KUNM. An emerging leader in the field of sustainability, Rachel's been written about in Prime Your Mind For Confidence; Bermuda Quest; The Girls Guide To Swagger; and Accessing Intuition: Stories from Architects and Designers.
First 20% Sample:
epub
mobi (Kindle)
lrf
Read more...