>> Saturday, March 8, 2014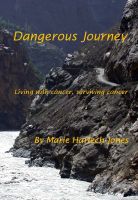 Do you have breast cancer, do you know someone who does, or do you wonder how you might deal with it? The author reflects on how it affected her at various stages of diagnosis, treatment, and recovery. She also reflects on the reactions of friends and family members, including the effects on her marriage. 'Dangerous Journey' is intended to offer insights, support, courage and inspiration.
About Marie Harlech-Jones
Marie lives in a country town near Canberra, Australia, and is involved in community activities. Occasionally she takes time off from her activities to give attention to her long-suffering husband, Brian, and her free-spirited cat, Shaka. Marie was born and raised in South Africa but has also lived in Canada, Namibia, the United Kingdom and Pakistan. 'Dangerous Journey' is her second book.
Price: Free!
Download:
epub
|
mobi (Kindle)
|
pdf