>> Friday, June 6, 2014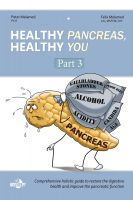 This book is for patients and medical providers, to explain nondrug treatments of the digestive (pancreatic) and metabolic disorders. There is no proper digestion without proper pancreatic function. Healing mineral water, acupuncture, herbs, supplements, enzymes, probiotics, and even abdominal massage, exercises, and hypnosis can be extremely useful for pancreas and the whole health.
This book is the practical guide to healing liver, gallbladder and pancreatic disorders, IBS, GERD, sphincter of Oddy dysfunction, metabolic syndrome, overweight, diabetes, metabolic acidosis, fatty liver and pancreas, food allergy, Candida-yeast overgrowth, Small Intestine Bacterial Overgrowth, etc.



This book focuses on the many ways, to improve the functions of the pancreas without drugs and surgeries. Medical doctors and health professionals all over the globe have used holistic approaches for hundreds of years, for millions of patients, to improve the digestive (pancreatic) health. The authors emphatically believe that healing methods described in this book can improve the quality of life and life span of sufferers of digestive and metabolic pancreatic diseases.



Pancreas is not an "accessory" digestive gland; all gastrointestinal health and metabolism critically depends upon the proper functioning of this vital organ.



Every year, 87,000 cases of pancreatitis occur in the USA. This is only the tip of the iceberg of digestive (pancreatic) diseases. Most attacks of pancreatitis are mild and go undiagnosed. Acute, chronic pancreatitis and pancreatic cancer are diseases on the rise. In almost all chronic diseases of the gastrointestinal tract, exocrine pancreatic function is diminished. Some studies indicate pancreatic abnormalities in 13% of a "normal" population.

Various experts consider that 8% of diabetes mellitus cases are caused by chronic pancreatitis. A large number of diabetics silently suffer from digestive problems, as well. The epidemic of obesity leads to a rise in epidemic proportions of fatty liver and fatty pancreas. The authors believe that the pandemic of digestive (pancreatic) disorders is strongly interrelated with the pandemics of metabolic acidosis and dysbiosis.



Medical providers can help their patients by focusing on early stages of the pancreatic disorders. Therefore, authors propose that the practical, clinical classification of the exocrine pancreatic deficiency stages be the following: functional, structural, and final. For each of these stages, the readers will find healing programs and practical recommendations.



This book is unusual because all of the chapters include two sections: the first breaks down the medical issues into simple words for people without a medical background, the next section addresses people with a medical background. This last section is for doctors, health care practitioners, and people to want to examine serious medical research about pancreatic health.



Reader will learn how to heal many digestive (pancreatic) disorders in their early stages by utilizing a number of proven, nondrug methods. One approach that is virtually unknown in the US is drinking healing mineral water prepared from genuine Karlovy Vary spring salt at home. Millions of people around the world have used this "miracle" mineral water to aid digestive health for more than 250 years. Reader may be surprised to learn that acupuncture, herbal remedies, nutritional supplementation, visceral massage, hypnosis, whole body cleansing with the restoration of friendly intestinal flora, colon hydrotherapy, and special exercises may help relieve many digestive disorders.



Some topics about pancreatic health in this book are new. To convince the conservative readers, we provide more than 300 referrals from respectful and well-known professors, researchers, medical doctors, and health practitioners from all over the world.



The authors hope that this book will be useful to not only many different health professionals such as medical doctors, naturopathic physicians, RNs, chiropractors, herbalists, acupuncturists, nutritionists, and colon hydro therapists and, but also and most importantly, for the hundreds and thousands of sufferers with the digestive (pancreatic) disorders.
About Peter Melamed
Peter Melamed, Ph.D. received his medical education first as a registered nurse and then as a medical doctor in Russia. He took specialized training in anesthesiology, intensive care, and internal medicine. Working as a physician, he became interested in holistic healing through his clinical experience with herbs, acupuncture, healing mineral water, and internal cleansing. He was granted a license to practice acupuncture in Russia in 1978, and from that time, he combined conventional Western medical treatment with herbs, acupuncture, and other nondrug healing therapies.

In 1975, Peter Melamed established Biotherapy as a natural, holistic approach to healing. Biotherapy combines the wisdom of traditional Russian folk medicine, ancient Oriental medical therapies, and European naturopathy with cutting-edge Western technology.

After immigrating to the USA and passing all the exams, Peter Melamed succeeded in starting up a private practice in 1996 at the Biotherapy Alternative Medicine Clinic of San Francisco Bay Area.

He is the author of many articles and two books:

1. Natural European Way of Whole Body Cleansing. Karlovy Vary Mineral Water for Healing and Rejuvenation

2. Healthy Pancreas, Healthy You
Price: $9.99 USD
First 15% Sample:
epub
|
mobi (Kindle)
|
lrf