>> Tuesday, September 30, 2014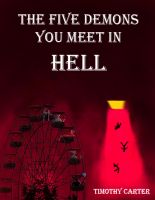 Boston Lefebvre, school bully and all around jerk, dies and finds himself in Hell. He must face five Demons, who will confront him with his worst sins. Boston's spiritual rehabilitation leads to an adventure involving Demons, Imps, Scourges, assassins, molten lava, and the two worst people from his life. Oh, and pain. Lots and lots of pain!
Boston Lefebvre, school bully and all around jerk, dies and finds himself in Hell. Not the fire and brimstone place he'd expected, Boston discovers Hell to be a centre for forced spiritual rehabilitation. Each damned soul must face five demons, who in turn will confront them with their five worst sins.

Boston is less than enthusiastic about the process, especially when he discovers he's being punished for the sins of Tony Smerle, a former friend. Tony, in cooperation with a demon named Rigdis, has found a way to subvert the Hell system, an action that could have devastating consequences.

Faced with the prospect of taking the fall for Tony's transgressions, Boston fights to set the record straight. His efforts lead him on an adventure involving demons, imps, assassins, cutthroats, and his long dead father, with the stakes being the existence of Hell itself.
About Timothy Carter
Timothy Carter was born in England during the week of the final lunar mission, and he turned thirteen on Friday the thirteenth. He still thinks those two things are pretty cool.

Timothy grew up in Canada's National Capital Region, and studied Dramatic Arts at Algonquin College. His YA novels include Evil?, Epoch, Attack of the Intergalactic Soul Hunters, and Closets. He has also written the adult-themed novel Section K. Timothy lives and writes in Toronto, Canada, with his wife and two cats.
Price:
$4.99

USD
First 20% Sample:
epub
mobi (Kindle)
lrf
Read more...