>> Monday, September 22, 2014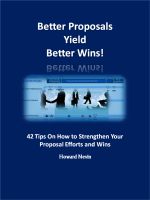 The book addresses the top problems firms have in simple-to-complex proposal efforts -- even sole-source offers. It includes explanations of how and why the problems occur, examples, and tips on how to prevent or mitigate those problems, use resources better, and consistently get better wins.
"Better Proposals Yield Better Wins!" offers up 42 Tips on how to improve your proposal efforts. It contains rock solid and winning proposal-proven recommendations for improving your proposal efforts, as well as identifying and mitigating or preventing the most commonly encountered problems. Howard has served as business developer, capture manager, proposal manager, and in other roles on proposals, as well as proposal "doctor" -- in one case salvaging a $50 million bid and doubling it in size within 4 months of award. Planning a proposal, improving your prospect "intel," handling complex changes in real-time...all and more are addressed in the Tips, spanning planning, management, and developing simple-to-complex proposals and effectively using time and people -- your two most critical assets. Samples of how things can go wrong -- and why, how to avoid damaging yourself through misuse of staff, addressing how to conform siloized proposals, as well as a sample on how to recover and expand a contract on the verge of closeout are provided -- and much more! With special additional sections on Fixed Price bidding, recommendations for startups, and an overview of how a 25,000 page proposal requiring 150 contributors in eight locations globally was planned, written and delivered in less than 60 days. you'll find these recommendations mesh with virtually any proposal "system" or process you may already have, are thinking of, or as the basis for one. You WON'T find this comprehensive type of information, detail, and explanations on the web. Equally applicable to government and commercial bidding.
About Howard Nevin
Howard is a native of Washington D.C. and now lives in Maryland. He has written three other books, and over 120 articles for major trade publications, including a a long running column in Government Computer News.



Howard is married with three grown children and seven grandchildren.
Price:
$9.99

USD
First 15% Sample:
epub
mobi (Kindle)
lrf