>> Saturday, September 27, 2014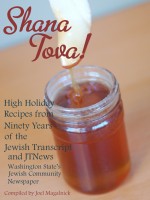 In celebration of the 90th anniversary of Seattle's Jewish Transcript, we have compiled every High Holiday recipe that has appeared in our newspaper over the years.
With 2014 marking the celebration of 90 years of publication of the Jewish Transcript, the Pacific Northwest's oldest and longest publishing Jewish community newspaper, we decided to take a look back at our history to help you create your High Holiday menu. What you have on your digital reading device is every single High Holiday recipe published in the Jewish Transcript and JTNews (as it's now called) since 1924. As you'll see, there are plenty of years where we published no recipes at all (what on earth did people eat if they didn't have us?), but it's fascinating to look at how tastes have changed over the decades. Though sometimes, it seems, they didn't change at all. If you're in the mood for a honey cake, or a recipe for somebody else's grandmother's tzimmes, or even a simple challah, we've got them all here — sometimes in multiples.
Price:
$6.99

USD
First 15% Sample:
epub
mobi (Kindle)
lrf