>> Friday, September 19, 2014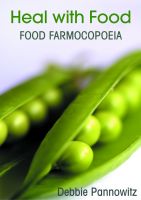 This book, written by a practicing nutritionist, covers over 100 conditions seen regularly in her clinic. It guides the reader on what to eat as well as what to limit or perhaps avoid altogether. The focus is generally on what positive steps can be taken rather than a more negative approach of listing foods to avoid.
This book is so much more than helping people with their diet. It is a resource to help all people everywhere get the most from their pantry and use foods for their medicincal properties. Over 100 conditions are listed alphabetically in the book for very quick referencing. It has found its uses in the kitchen but also on the desk of many practitioners. The appendices are comprehensive to cover more specific diet types. This edition also contains an addenda of over 100 general healthy eating tips and comprehensive glossary. Remember this book is one you can refer to over and again for years to come to help you, your family and friends!!
About Debbie Pannowitz
About the Author

Debbie Pannowitz specialises in Kinesiology and Nutrition Medicine. She holds accreditation from the Australian Traditional Medicine Society. She has a Masters of Science, a Graduate Diploma in Health Science (Nutrition Medicine) and a Masters of Business Administration.

Through her practice in New South Wales and Tasmania (Australia), Debbie seeks to coach people to use their full creative capacity to lead healthier, more fulfilling and robust lives. She is particularly conscious of the need for all of us to manage the stresses of modern living and to recognise and resolve the impact of our emotions and belief systems on our health and well-being.

Through a long career in scientific research and in the food, pharmacology and health industries, Debbie has sought to bring clarity to communication about health. She has taught and lectured at several major natural health colleges in Australia. She has authored articles for professional publications, journals and community newspapers. Through this book she presents information simply, clearly and in an easily accessible format for both practitioners and patients.
Price:
$19.99

USD
First 15% Sample:
epub
mobi (Kindle)
lrf