>> Wednesday, September 24, 2014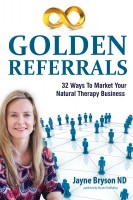 My name is Jayne Bryson ND and I've ran a successful six figure naturopathic business for over 10 years. I've put down the secrets to my success in my last book 'Building Your Ideal Practice'. Now I'd like to share with you my new book 'Golden Referrals. 32 Ways to Market Your Natural Therapy Business'. My book shares 32 practical steps that you can implement right now to find and keep new clients
My name is Jayne Bryson ND and I've ran a successful six figure naturopathic business for over 10 years. I've put down the secrets to my success in my last book 'Building Your Ideal Practice'. Now I'd like to share with you my new book 'Golden Referrals. 32 Ways to Market Your Natural Therapy Business'. My book shares 32 practical steps that you can implement right now to find and keep new clients. These are same same techniques I used to create a 6 figure natural therapy business in under 10 years. I still use these techniques today. You can too! If you are a naturopath, acupuncturist, homeopath, massage therapist or integrative practitioner, you'll find Golden Referrals your short to finding and retaining new clients..
About Jayne Bryson
Jayne Bryson is a Naturopath and graduate of the Australian College of Natural Medicine, Queensland, with a Bachelor Degree of Health Science (Naturopathy).



Jayne started her career as a mental health nurse following a traditionally orthodox medical framework, travelling the world before pursuing her interest in natural medicine. A passionate lifelong learner, Jayne continues to undertake extensive further education in Australia and overseas each year in order to remain at the cutting edge of natural health developments. She believes Mindfulness is a state of awareness, openness & focus. They are easy to learn & will rapidly & effectively help you to reduce stress, enhance performance, manage emotions, improve health, increase vitality and generally change your life.



Jayne is a Master Neuro Linguistic Practitioner (NLP) & practices The Sedona Method - both of these techniques work beautifully together in balancing & aligning the mind, body & spirit. She uses an array of other therapies tailored specifically to you - Naturopathy, Bioresonance, Mindfulness techniques, Herbal medicine & Nutrition.
Price:
$19.95

USD
First 20% Sample:
epub
mobi (Kindle)
lrf