>> Tuesday, March 4, 2014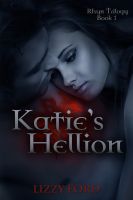 Katie thinks she's going crazy when a baby immortal and death's personal assistant appear at her doorstep. She's drawn into a world filled with immortals like Rhyn, an outcast half-breed who claims her as his mate in a show of defiance to his brothers. Rhyn rescues her from Hell and discovers his little human has a gift that'll help his brothers protect the immortal and mortal worlds. YA - mature.
Katie's having the worst day ever: she's been dragged down to the police station for abandoning her son, a cute kid with big brown eyes. Only Katie doesn't have a son. She's never seen the five year old boy in her life, despite the insistence of the police, her doctor, even her own sister. She thinks she's gone completely crazy until the five year old living in her house tells her his secret: he's a baby immortal, and his guardians were supposed to wipe her mind so she'd forget he didn't belong to her and raise him as hers. But Katie is immune to the power of immortals, and they don't react well to this discovery. Katie winds up in Hell, where she meets Rhyn, who recognizes her as an immortal's mate - and his key out of Hell.



Rhyn is a misunderstood immortal, the youngest of the seven Ancients, sentenced to Hell after accidentally almost destroying the world. Katie's immunity to immortals creates an opportunity for them to escape Hell, so he snatches her and flees. At first, Katie despises the man who treats her like a portable food source, until she finds out he's the only one willing and able to protect her from the dangers of the immortal world. Rhyn discovers that his little human has heart. With horror, he discovers she's not destined to be any immortal's mate- she's destined to be his mate. He has no idea how to care for someone else let alone control his power, but he must learn, as his little human is endangered by both good and bad immortals determined to use her to their advantage.



Young Adult fiction. Mature teens only.
About Lizzy Ford
Please visit our website to join our mailing list for updates on Lizzy Ford releases!



Lizzy Ford is the author of over twenty novels written for young adult and adult paranormal romance readers, to include the internationally bestselling Rhyn Trilogy, Witchling Trilogy and the War of Gods series. Considered a freak of nature by her peers for the ability to write and release a commercial quality novel in under a month, Lizzy has focused on keeping her readers happy by producing brilliant, gritty romances that remind people why true love is a trial worth enduring.



Lizzy's books are available from Amazon, BN, Smashwords, iBooks/iTunes, and all other eReader libraries. They include:



Voodoo Nights (Young Adult Series) - published by Evatopia Press

"Cursed" (2014)

"Chosen" (2014)



Broken Beauty Serials - published by Evatopia Press

"Broken Beauty" (2013)

"Broken World" (2013)



Incubatti - published by Evatopia Press

"Zoey Rogue" (2013)

"Zoey Avenger" (2014)



Heart of Fire Series

"Charred Heart" (2013)

"Charred Tears" (2013)

"Charred Hope" (2014)



Hidden Evil Series

"Hear No" (2013)

"See No" (2014)

"Speak No" (2014)



Rhyn Trilogy:

"Katie's Hellion" (2011)

"Katie's Hope" (2011)

"Rhyn's Redemption" (2012)

Short story: "Rhyn Trilogy: Origins" (2011)



Rhyn Eternal series:

"Gabriel's Hope" (2012)

"Deidre's Death" (2013)

"Darkyn's Mate" (2013)

"The Underworld" (2014)



War of Gods (Damian) Series:

"Damian's Oracle" (2011)

"Damian's Assassin" (2011)

"Damian's Immortal" (2011)

"The Grey God" (2012)



Damian Eternal:

"Xander's Chance" (2013)

"The Black God" (2014)



Foretold Trilogy (YA fantasy)

"Elle's Journey" (2011)

"Shadow Rising" (2014)

"The Journey West" (2015)



Anshan Saga:

"Kiera's Moon" (2011)

"Kiera's Sun" (2014)



Witchling Series - Published by Evatopia Press:

"Dark Summer" (2012)

"Autumn Storm" (2012)

"Winter Fire" (2013)

"Spring Rain" (2014)



Single Titles:

"Seer's Kiss" (2014)

"Water Spell" (2014)

"Star Kissed" (2013)

"Rebel Heart" (2012)

"A Demon's Desire" (2011)

"Maddy's Oasis" (2011)

"The Warlord's Secret" (2011)



Lizzy loves hearing from her readers, so feel free to follow her on Twitter (@LizzyFord2010), Facebook (Lizzy Ford) or contact her through her site, www.guerrillawordfare.com!
Price: Free!
Download:
epub
|
mobi (Kindle)
|
pdf