>> Saturday, October 25, 2014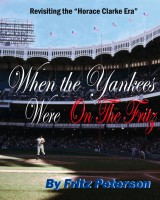 "When the Yankees Were on the Fritz" is about a low time in New York Yankee history, the Horace Clarke Era, 1966-1974. Fritz's scouts had sold him on the concept that if he were on the Yankees he would be getting a World Series check almost every season, but instead, the Yankees fell to last place in the American League for the first time ever. Fritz never did get a World Series check.
This book is written from a players perspective and attempts to explain why the New York Yankees didn't, and couldn't have won any pennants from 1966 through 1974, a time known as "The Horace Clarke Era" by baseball historians. The book takes the reader from the first day Fritz Peterson appeared in a Yankee uniform in the spring in 1966 to the day he, and three teammates were traded to the Indians in April, 1974. The book shows both the personal and professional sides of life being a New York Yankee in the 1960's and 1970's before free agency when the players were more like a family rather than a business when players all had to work during off seasons, now a lost art. Many players will be highlighted because of the impressions or various incidents that happened making them especially memorable to Fritz. Players range from Mickey Mantle, down to Luke Lamboley, Fritz's first friend to be released (fired) from the Yankee organization.
About Fritz Peterson
Fritz Peterson was born in 1942 in Chicago, Illinois and was a White Sox fan until he signed with the NY Yankees in 1963. He won the first game he started on April 15, 1966 against the would be World Champion Baltimore Orioles, 3-2. It was the only game the Orioles lost that month. He won 20 games in 1970 and pitched in the All Star game that season. After an 11 year career he holds the lowest career E.R.A. in the long 85 year history of Old Yankee Stadium. Fritz had an over all e.r.a. of 2.52, Whitey Ford was second with a 2.58 e.r.a.

Fritz became an author in 2009 and again in 2012 and is finishing up 2 other books in 2014. He finds humor in almost everything he does. He and his wife have been married for over 40 years and have raised 7 children (so far) with a 7 year old grand daughter living with them as of 2014.
Price:
$9.99

USD
First 20% Sample:
epub
mobi (Kindle)
lrf