>> Saturday, May 17, 2014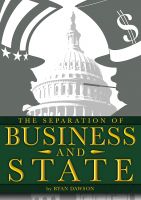 To end our nation's funding of corporate welfare, wars-for-profit and bank bailouts, we must first understand the tangled relationship that exists between corporations, banks, and the government. Political analyst Ryan Dawson discusses the problems that plague our system and offers some practical solutions on how we can work together to establish a separation of business and state.
Government is not the solution; it is the problem. It is vital for us to understand its complicity in the facilitation of history's most enormous financial scandals, corporate welfare and war-for-profit.

To understand why "Hi, we're the government and we're here to help!" is the scariest sentence in the English language, just have a look at what government meddling has done to all the industries with which it is involved: education, road construction, the mail, healthcare, agriculture, energy, banking and trade.

As Chris Hedges once said, "We now live in a nation where doctors destroy health, lawyers destroy justice, universities destroy knowledge, governments destroy freedom, the press destroys information, religion destroys morals, and our banks destroy the economy."

He was half right; it was when all of those institutions became burdened with government intervention that they began to fail so miserably.

Advocates of big government like to imagine scenarios of what government could do to regulate crony capitalism, prevent fraud and curb the police state. Unfortunately, their solutions assume a government not riddled with the legalized bribery of corporate lobbies, not to mention government officials above abusing their position to further their own business interests.

Various government agencies themselves now behave like businesses. Where their interests align with those of private industry, they reward their corporate partners through government favoritism. Our government does not prevent cronyism; it facilitates it. We cannot reform the regulations until we reform the system itself.

Government projects often become a means of transferring wealth from the public to the government (with a choice piece of the pie going to favored industries, of course). People spending other people's money tend to have little incentive to be cost-efficient, especially when the debts which they create fall upon the people from whom they initially borrowed the money rather than themselves. The moment people realized they could vote themselves money, democracy was dead.

The government is the largest purveyor of violence in the world today, and a greater threat to stability than any other terrorist group or nation state. The US can, and does, intervene militarily based on very flimsy excuses. Our government does not provide peace and defense; it actively seeks pretexts to go on the offensive and murders millions. Questioning militarism has been spun so that opposing war is cast as opposing the soldiers themselves.

The government has also facilitated the modern central banking system. Banks now issue loans larger than the actual reserves in existence, creating an unsustainable cycle whereby they collect interest on sums of money they never possessed, and creating debts greater than the amount of money that actually exists.

Without the power and protection of government, bad banks would fail naturally. The press wouldn't be compromised by executives who serve on the boards of the Pentagon's largest defense contractors. Courts would no longer be a place to award corporate bias through the reinterpretation of law.

We can no longer turn to the mainstream media outlets to inform us of these problems, as they are now firmly under the control of the US regime, in a manner on par with that of the former Soviet Union. Reforming mass media is a lost cause; abandoning it for independent media is a more viable and realistic option. It is through books like this one that the modern citizen must inform himself about what is really going on in the world today.

The first step is to understand the system through which banks, industries, media, and the government collaborate to make things the way they are. Once we understand that system, we can begin to chip away at the disease they represent, by attacking it at the root. Keep government out of the marketplace; separate business and state.
About Ryan Dawson
Ryan Dawson is a Cape Hatteras native from the town of Buxton, North Carolina. He is a graduate from the College of William & Mary. Currently living In Nara, Japan, Mr. Dawson is the author of Welcome to the USSA and a co-author of Why Peace. Mr. Dawson has worked as a geopolitical analyst and political radio host for the former FBI translator, Sibel Edmonds, of Boiling Frogs Post. He's made a variety of political documentaries dealing with a wide range of subjects such as the second Iraq War, the September 11th terrorist attacks, the anthrax affair, covert operations of the CIA, and the JFK assassination.

Mr. Dawson's work has been featured on a variety of television news networks such as Russia Today and MSNBC, as well as on political satire comedy shows like the Daily Show with Jon Stewart. He is regularly interviewed on a number of political radio shows and websites. He currently runs the ANC Report, an independent media outlet with a focus on economic and political news.
Price: $4.99 USD
First 8% Sample:
epub
|
mobi (Kindle)
|
lrf