>> Wednesday, October 22, 2014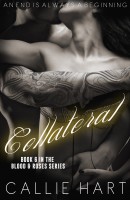 Zeth & Sloane fight together one last time to overcome the dangers that threaten their blossoming relationship, along with all those they love.
The final instalment of Zeth & Sloane's story is here!



With Lacey missing and everything falling apart, Sloane and Zeth will do everything they can to get her back. If that includes facing off against Charlie Holsan, the DEA, and anyone else who gets in their way, then so be it.



Faced with heartbreak, danger, and the increasing need to protect the ones he loves, Zeth Mayfair is finally realizing what it means to have a family. With her fears coming full circle, Sloane must learn that forgiveness is the only way to move forward.
Price:
$2.99

USD
First 20% Sample:
epub
mobi (Kindle)
lrf