>> Wednesday, October 29, 2014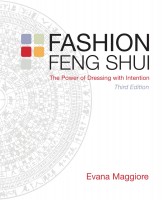 Clothing, your body's most intimate environment, influences your life as much as the Chinese philosophy of Feng Shui teaches that your home and business decors do. Evana Maggiore's fascinating book introduces you to this transformational dressing technique that combines ancient wisdom and solid fashion and image advice.
Fashion Feng Shui® is an innovative, transformational dressing technique inspired by Feng Shui, the ancient Chinese Art of Placement. Based on the premise that you live a happier, healthier, more prosperous existence when your living and working environments are harmonious and balanced, Feng Shui encourages you to visually affirm your intentions in your personal and professional surroundings in order to create them in your life.



Fashion Feng Shui®, which considers clothing to be your body's most intimate environment, applies Feng Shui philosophy and principles to personal appearance. Maintaining that what you wear is as influential on your life as your home and business decors, Fashion Feng Shui® teaches you how to dress with mindfulness and intention so that your clothes express your authenticity and attract your deepest desires.



Using the energetic language of Nature's Five Elements, Water, Wood, Fire, Earth and Metal, to describe physical appearance, preferences and goals, lifestyle, and clothing design elements, Fashion Feng Shui® elevates what was once a mundane routine to mindful ritual, so that getting dressed becomes easy, fun and empowering.



The 2014 edition of Fashion Feng Shui: The Power of Dressing with Intention includes a new foreword by world-renowned image professional and Fashion Feng Shui® Master Trainer Sue Donnelly and a never-before-seen article and cutting-edge quiz by Evana Maggiore herself.
About Evana Maggiore
Evana Maggiore, founder of Fashion Feng Shui®, led a colorful life and left us a legacy that is at once soulful and stylish. A native of Boston and a graduate of UMass Amherst, she was a professional image consultant who expanded her business to include Feng Shui. Together with her dear friend Louise Elerding, she worked to create Fashion Feng Shui®, the first practice that connected the art of Chinese placement to fashion and personal style. She was an esteemed lecturer and inspiring teacher, bringing Fashion Feng Shui® to hundreds around the world. In 2001, Evana established the Love Yourself! Project, an annual day of holistic pampering for the guests of the Boston-based women's shelter Rosie's Place. She was a certified image professional, a charter member and vice-president of the Association of Image Consultants International, a member of the Fashion Group International and the International Feng Shui Guild, and a beloved colleague, friend, sister, wife and mom.



Evana fought a long battle with ovarian cancer and we lost her in 2013. Her legacy lives on through Fashion Feng Shui International, which continues to provide training and consultations through a network of licensed facilitators throughout the world.
Price:
$9.99

USD