>> Wednesday, October 29, 2014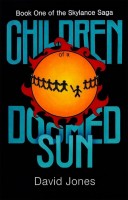 Quinn Sanders is plucked from his perfect life by an advanced and mysterious alien race and taken 30,000 light years away to learn to cultivate an unknown mental power called the Focus. He must evade ancient war machines and hostile aliens as he learns of his hosts' horrifying secret, a secret that threatens the very existence of the Earth.
Quinn Sanders enjoys a life of popularity and privilege in a wealthy Dallas suburb as a star athlete and star student. His perfect life is upended when the United States government spirits him to a remote installation and tells him that not only has an advanced robotic alien race called the Betas made contact, but they've bargained technology for the right to take Quinn and two dozen other adolescents from around the globe to a remote planet 30,000 light years away from Earth to train them in the use of a latent mental power called The Focus.



The other students quickly learn to cultivate their mental talents, but Quinn struggles with his first tastes of failure and inadequacy. It doesn't take long to discover the tenuous hold their hosts have on control of the massive training installation as the students are beset by ancient war machines and bizarre alien life forms. Only with the help of his new friends can he hope to survive the distant and hostile planet and uncover the horrible secret of their hosts; a secret that threatens the existence of Earth itself.
About David Jones
David is a practicing litigation attorney in Texas. Some of his work, both fiction and non-fiction, can be found in the South Western Reporter (3rd), resulting in several successful appellate decisions. He resides outside of Dallas with his beautiful wife, Shannon and precocious twin daughters.
Price:
$2.99

USD
First 20% Sample:
epub
mobi (Kindle)
lrf