>> Monday, October 27, 2014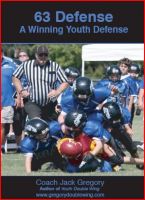 The 63 Defense using both read and stack pressure concepts made famous by the 33 Stack Defense. It blends these concepts along with the zone coverage, Tampa cover 2 concepts, and aggressive 34 outside linebacker techniques to give you an aggressive defense that is fundamentally sound yet very simple to install. Coach Gregory goes into great detail about installation, practice, and adjustments.
About Jack Gregory
Jack Gregory began football coaching at the early age of twenty while in the Marine Corps. He has coached semi-professional football, high school football, middle school football, and youth football in California, North Carolina, Texas, Japan, and Europe. He has twenty years of coaching experience and most of that coaching middle school and youth football players. He is the founder of the National Double Wing Football Coaches Symposium and as authored several books on coaching football. His first book written in 2007 was the Bull, Bear, and Bison Offense - The Triple B is an offensive instruction manual on a variation of the modern Double Wing offense. In 2008 he wrote the book The Youth Double Wing - A Winning Youth Offense and shortly after writing the book was approached by Championship Productions and created the five DVD instructional set The Youth Double Wing Offense. He is currently releasing his new book The 63 Defense - A Winning Youth Defense and is working on the second addition to his Youth Double Wing series called The Youth Double Wing: The Gun! He is currently a head football coach at Prince of Peace Middle School in Plano, TX and is married to his beautiful wife Tammy and has two beautiful children Kaden Blair Gregory and Blake Alan Gregory.



Price:
$25.00

USD