>> Wednesday, March 5, 2014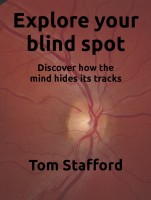 Discover how the mind hides its tracks.



This is a short guide to one of the secrets of mind and brain. Find out about the gaps in your vision and how your mind is designed to stop you noticing them.
About Tom Stafford
Tom Stafford is the co-author of Mind Hacks (2004) and the Rough Guide to Brain Training (2010). He is a lecturer in Psychology and Cognitive Science at the University of Sheffield, UK
Price: Free!
Download:
epub
|
mobi (Kindle)
|
pdf