>> Wednesday, March 5, 2014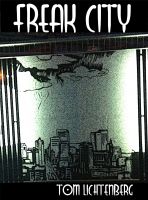 It's hard to control your destiny while you're waiting for the bus. The trouble for Argus Kirkham began when a stranger pushed his way through a crowd at a bus stop and pressed a package into his hands. Inside the package were various random items. As Argus and his friends unravel the clues, very strange things occur in this story of mystery and ghosts. Book Two of the Dragon City series.
About Tom Lichtenberg
"Author of curiously engaging novellas. His stories are not driven by action but by mood and metaphysics. His premises often begin with fairly standard, often vaguely science-fiction concepts, but he spins those concepts out into melancholy, thoughtful tales in which he explores the emotion and (often) dislocation that people feel when confronted by something outside their normal experience." - Devon Kappa
Price: Free!
Download:
epub
|
mobi (Kindle)
|
pdf