>> Tuesday, March 18, 2014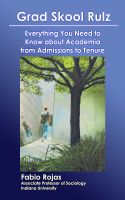 Get the inside scoop on graduate school and the tenure track. This no-nonsense guide gives you blunt advice about everything from admissions to dissertations to getting tenure. Filled with concrete strategies for surviving graduate school while keeping your sanity.
Grad Skool Rulz: Everything You Need to Know about Academia from Admissions to Tenure is for students in Ph.D. programs. These programs have a poor track record. Less than 50% of students who begin their Ph.D. program will leave with their degree. Many of those who graduate will needlessly spend a decade or more pursuing their degree.



Grad Skool Rulz is designed to help you finish graduate school in a reasonable amount of time and successfully land that tenure track job. This book gives blunt advice on dozens of graduate school topics, such as admissions, dissertations, advisors, and jobs. Grad Skool Rulz also offers advice and help for students who have decided that academia isn't the right career for them.



In addition to dozens of chapters dedicated to doctoral programs, the book also has material for tenure track professors and post-doctoral fellows. The book will take you from applying to graduate school to submitting your tenure review file.



This book is based on the author's nearly twenty years of experience in graduate education, both as a student and a tenured professor. The goal is to give you useful advice, help you avoid mistakes, and become the best scholar you can be.
Price: $3.00 USD
First 10% Sample:
epub
|
mobi (Kindle)
|
lrf