>> Saturday, March 22, 2014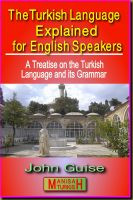 This Treatise explains and answers some of the difficulties that the learner of Turkish may encounter along their way. It focuses on the understanding of Turkish grammar and logic with many examples and explanations. There are no practice exercises included as these can be found in many text books or on the internet. It covers the learning process from beginner to intermediate and advanced.
This Treatise on the Turkish Language and its Grammar explains and answers some of the difficulties that the learner of Turkish may encounter along their way. This book focuses on understanding Turkish grammar and logic. Those who are interested in the whys and wherefores of Turkish will find amongst these pages the key to their particular problem of Turkish grammar and syntax. It covers the basics of Turkish and further expands knowledge and understanding of Turkish by using many examples with explanations. It does not contain any practice exercises or sound files as many of these type of basic Turkish grammar lessons can be found in other text books or on the world wide web. It is a book that will be used over the whole of the learning process from basic beginner through to intermediate and advanced stages of learning.



The contents of the 43 chapters range over:

Turkish Basic Grammar: Alphabet, Vowel Harmony, Agglutination, Consonant Mutation, Lack of Gender.

Intermediate: Nouns and Pronouns, Adjectives, Verbs and Tenses, Possessive Relationship and Possession.

Advanced: Verb Moods, Participles, Clauses, Spatials and Spatial Relationships, Word Formation in Turkish

Conversational Items: Time, Seasons, Numbers, Colours, Saying "Thankyou", About "buyurun", Expressing Need, Daily Interjections, Modes of Address, Turkish Sign Language, How to say "too much, too many", Daily Talk, Common Door Signs.

Glossaries: List of Daily Locutions, Daily Word List, Irregular Tense List, Turkish Single Syllable Verb List, Intensified Adjectives List.
About John Guise
John Guise is a 76 year old Turkophile born and raised in England. In his retirement he has settled in New Zealand. He has also set up a website, Manisa Turkish, which offers an easy way to learn Turkish for everybody.



John Guise first visited Turkey for a holiday in Alanya 1979. A year later he started to work in Manisa. Living in Izmir he worked as a Professional Technical Engineering Manager in a factory producing diesel engined industrial vehicles. Besides a daily journey from Izmir to the Manisa factory for two consecutive years, he also found time to visit Istanbul, Ankara, Bursa, Balikesir, Nevsehir, Ayvalik, Isparta and Bodrum for short holiday trips. At the end of his working contract he returned to his own country.



To show his gratitude to the Turkish people for various kindnesses shown to him, he decided to teach Turkish to fellow Language learners. In 2001 he passed the SOAS University examination in the Turkish language. After this he began to teach Turkish at his local Technical College at Coventry in the UK. He has also given private lessons in his own home.



John Guise himself had studied Latin and Greek in his own grammar school days. Also he can speak and write some French and Spanish. Before he began to work in Turkey he had said to himself, "I now have a chance to learn Turkish.." He states that because he already knew some languages then it was easier to assimilate Turkish.



His treatise "The Turkish Language Explained for English Speakers" is the result of his many years learning and teaching this fascinating language. In it he explains the various difficulties the learner may encounter along their learning curve. Many of these differences between English and Turkish are often glossed over or not even mentioned in many already published Language courses.



Grammar is kept to a minimum and explanations are clear and to the point. It is a book about the Turkish language and its grammar that you will keep by your side from your first lesson through intermediate and advanced stages of your studies.



You can now also buy this EPUB version with Turkish fonts embedded so is is viewable in all Ebook readers from http://www.turkishlanguage.co.uk/ebook.htm



Adobe Digital Editions 2.0 now has support for Turkish Fonts (Unicode sub-set). You can update or download it to your PC to view this book correctly.
Price: $9.99 USD