>> Tuesday, March 11, 2014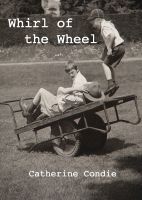 Three children whirl back in time through an enchanted potter's wheel into the reality of evacuation in 1940s Britain . . . Whirl of the Wheel pulls feisty Connie, her brother Charlie-Mouse, and school pest Malcolm into dangers on the homefront and towards a military operations secret that will save their home. The children hit trouble when Malcolm fails to return to the present day.
About Catherine Condie
Born in Cambridge,UK, Catherine began her career in PR and corporate communications, progressing as an editor of science journals, and as communications advisor for a European programme. She currently works in internet marketing and is a school literacy governor. Catherine is also a singer/songwriter and guitarist, and plays in a rock band.
Price: Free!
Download:
epub
|
mobi (Kindle)
|
pdf