>> Thursday, April 17, 2014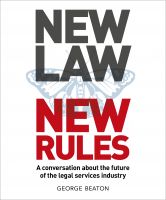 NewLaw New Rules breaks new ground. The book shows how trends in industry structure and clients' buying behaviour are changing the legal landscape – and in doing so create opportunities for a new category of legal services provider and also challenge law firms based on the traditional business model.
It began with 'The rise and rise of the NewLaw business model' posted on 7 October 2013 on Bigger. Better. Both? The Beaton Capital Blog. In that post, George Beaton canvassed recent developments in the legal services industry, specifically the rise of providers that do not fit the traditional law firm mould.

The ensuing discussion about current and anticipated developments in the legal services sector attracted responses from law firm leaders, practitioners, consultants and academics. In the blogosphere and on Twitter contributors from Australia, Canada, Hong Kong, Spain, the United Kingdom and the United States engaged in vigorous and insightful exchanges. The intensity and pace of the discussion over the course of two months attested to the timeliness of the questions that were being raised. And there was certainly a common theme: Major changes are afoot in how clients are buying legal services and how providers are innovating and responding – and in some cases appear not to be responding.

NewLaw New Rules makes the conversation available in a structured and edited form. It is a snapshot of the state and development of the legal services industry.
About George Beaton
Legal services industry specialist | Business adviser to law firms

Leader of strategy and research consultancies serving professional services firms

Author | Commentator | Keynote speaker

In the recent past a senior member of the Melbourne Business School and

the Melbourne Law School in The University of Melbourne

In the distant past a medical school professor in the

University of the Witwatersrand, South Africa

Current area of work/interest/specialisation:

Globalisation of professional services

Contemporary meaning of professionalism
Price: $15.99 USD