>> Saturday, May 24, 2014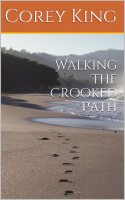 Diagnosed with an incurable, degenerative disease, a successful businessman and engineer confronts a troubled past and an uncertain future and finds an unexpected path to faith and hope.
Corey King was unprepared for Parkinson's disease, but even more unprepared for the harsh light the diagnosis cast on buried secrets and unresolved problems from the past. This life-changing truth called everything he believed into question, and forced him to confront even deeper truths. On a crooked path from a childhood history of abuse to the cockpit of a military jet and the boardrooms and laboratories of the high-tech business world, Corey struggled to answer questions that plague all of us. Who am I? Why am I here? How do I keep going when there seems to be no hope? 'Walking the Crooked Path' is Corey's story of confronting a devastating diagnosis with painful honesty and wry humor, but is also the more important story of forgiveness, redemption, and newfound faith.
About Corey King
Corey is a volunteer Assistant Director for the State of Texas for the Parkinson's Action Network (PAN), a Congressional lobbying organization focused on the needs of the Parkinson disease community. He is also the past president and chairman of the board of the Alamo Area Parkinson's Support Group and past board member of the Comal County Parkinson's Support Group and the Lone Star Parkinson Society.



Corey is a U.S. Air Force veteran and served as a space operations and engineering officer. Following his Air Force career, Corey was a project manager and system engineer for government and commercial development projects in computer network design, large-scale database system design, and technical and operational security. He was the senior leader at a telecommunications and computer research laboratory, a vice president for a high-tech defense contractor, and was one of several principals in a computer security start-up company. His company was acquired by Symantec, where Mr. King served in senior management, sales, and marketing roles until 2006. Corey also worked with Southwest Research Institute, where he led an organization of scientists and engineers performing research and development.



He retired from his professional career in 2011, after he was diagnosed with young-onset Parkinson's disease in 2009. Since then has been active as an advocate for the Parkinson's community, and volunteers for the Patient-Centered Outcomes Research Institute and the US CyberPatriot Program, a high-school cyber security competition. He writes a blog about his experiences in life and with Parkinson's, at http://cdkingcrookedpath.com.



He lives in San Antonio, Texas with his wife Amy and their dog Izzy. The children, although children no longer, come home regularly and regale their parents with wonderful stories of their achievements.
Price: $4.99 USD
First 15% Sample:
epub
|
mobi (Kindle)
|
lrf