>> Thursday, September 11, 2014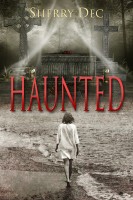 A psychic, thirteen year old is thrown back a hundred years into another lifetime. She must solve a mystery by unlocking her own powers.

Read this book!
Julie is an intelligent, psychic, thirteen year old living in Maine with her parents and brother. Aware but shy of her psychic gift, she finally meets a mysterious stranger who directs her to correct an error made in another lifetime. She needs to go back in time a hundred years to solve this error, so she may enter and work in a mystery school that subtly influences her contemporary world.

When she goes back to her previous life in the same town but one hundred years earlier, she changes into Victoria, a beautiful seventeen-year-old niece from Boston, Massachusetts. She spends the summer at her Aunt Leticia's beach side estate. She meets Jonathan and proceeds to fall in love for the first time while solving an ancient murder.

She must work against forces of darkness that want control over ancient dolmans that travel through time and change energy fields. She learns to trigger these ancient stones found in the garden and travels back to an even earlier time when another murder is committed.

Armed with this knowledge, she is able to solve the mystery of her past life.

But Julie is called back to her own time when everything is finished leaving Jonathan behind.

Somehow she must find him again.

Resolved to do this, she is ready to begin her search with new belief in her own self and the powerful talents she has unlocked.
About Sherry H. Dec
I am a Maine girl who grew up, went to school, worked, married, raised a son and have now retired into writing and painting all in this same amazing state. Generations before me, Edmund Littlefield settled Wells in the early 1600s, so my roots are deep.

I started writing this book several decades ago. I wrote it, put it away, started it up again to then let it shimmer awhile. In this phase of my life, I've launched it into the world. I'm pleased that you have found it.

I believe that we all have a story somewhere inside us and if we listen hard, it will begin to sing.

Have fun as mine kicks around in your brain and when you are ready, let me know what you think.
Price:
$4.95

USD
First 15% Sample:
epub
|
mobi (Kindle)
|
lrf