>> Saturday, September 6, 2014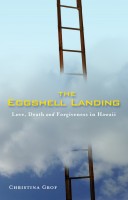 "Christina Grof offers us a beautifully crafted and moving memoir of transformation

of family at the end of a life, of unconsciousness and abuse, understanding and

redemption."--Jack Kornfield, author of A Path With Heart
"Christina Grof offers us a beautifully crafted and moving memoir of transformation

of family at the end of a life, of unconsciousness and abuse, understanding and

redemption."

--Jack Kornfield, author of A Path With Heart

The Eggshell Landing takes us to the warm breezes and flower-lined lanais of Hawaii, where Christina Grof was raised by her mother and stepfather. There was much joy and adventure in her childhood, but also dark secrets and enduring pain. Now her abusive stepfather is dying of malignant melanoma in Honolulu. Should she confront him about her conflicted difficult memories? Should she stay silent? Maybe just write him a letter? Or should she go back to the islands, support him and help to create a loving atmosphere for his last months? What would you do? The Eggshell Landing is a miraculous story of forgiveness and redemption. The hard-shelled man who drank and acted inappropriately toward his daughter is not someone for whom we would envision redemption or compassion. Christina Grof's experiences with her dying stepfather will surprise you and perhaps even change your attitude toward forgiveness.
About Christina Grof
Christina Grof is a teacher, artist, and author of The Thirst for Wholeness; she is the founder of the Spiritual Emergence Network, co-creator of Grof Transpersonal Training and Holotropic BreathworkTM and recipient of three honorary doctorates. She lives in the San Francisco Bay Area with her husband, Stan.
Price:
$12.50

USD
First 15% Sample:
epub
|
mobi (Kindle)
|
lrf