>> Thursday, October 16, 2014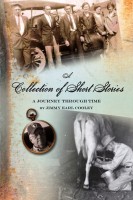 This book contains a collection of short stories by Jimmy Earl Cooley, an nasa engineer on his life and work in Louisiana and Maryland. His imaginary friend Abigaile Interfaces with him in many faucets of his life causing adventures and misadventures.
A series of short stories by Jimmy Earl Cooley describing his journey through time while growing up in a small community in Louisiana, attending college, working for the National Space Agency as a space flight engineer in Maryland and eventually returning to Louisiana. Discussions about his life, jobs, and hobbies such as making birdhouses, photographing wildlife and gardens; oil paintings portraits (16 in total), Master Gardener in both Maryland and Louisiana, being a fireman, and fisherman: all while being led, directed and troubled by Abigaile, an imaginary friend. Although Jimmy never really knew for sure if she existed in his mind or real life. Her influence revealed secrets and led him to many adventures. But it is clear from the stories that his father, JB, had the greatest influence on his life.
About Jimmy Earl Cooley
Jimmy Earl Cooley, born February 21, 1936 in Ludington, Louisiana, graduated from DeRidder High School, graduated from ULL Lafayette, Worked for NASA/GSFC, Greenbelt, Maryland, retired 1992, now living in Beauregard Parish, Louisiana with wife Carollyn and dog Chance.
Price:
$4.99

USD
First 20% Sample:
epub
mobi (Kindle)
lrf