>> Friday, October 10, 2014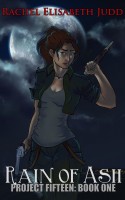 When Gwen's sister Lydia mysteriously vanishes, Gwen spends three years wondering where she went. When Lydia does finally return, she brings with her a world Gwen can barely believe. Does Gwen have what it takes to be a vampire hunter? And will she uncover the right person's secrets before it's too late and Gwen loses the people she's closest to?
Three years ago, after a terrible fight with her father, Lydia Bradshaw vanished without a trace.



Her younger sister Gwen never gives up hope, though, waiting for Lydia to eventually come home.



But when Lydia finally does resurface, it's not what Gwen expected. Lydia's changed in her time away, in ways Gwen can barely understand. After her family home burns, Gwen gets taken in by a cadre of vampire hunters who call themselves Project Fifteen. They welcome Gwen, teaching her how to hunt and fight vampires. And Gwen embraces the opportunity to take revenge on the vampires who have hurt her family.



But not everyone is what they seem. Everyone has secrets, even Gwen. Will Gwen be able to survive her introduction into the hidden world of Project Fifteen?
About Rachel Elisabeth Judd
Hello, and thank you for checking out my work! Rain of Ash is the first entry into a transmedia project all about vampires, vampire hunters and the magic of the city.



I currently live with my beloved partner in Los Angeles, where I enjoy craft beer, crafting with friends and being a giant nerd.
Price:
$3.99

USD
First 20% Sample:
epub
mobi (Kindle)
lrf