>> Wednesday, October 1, 2014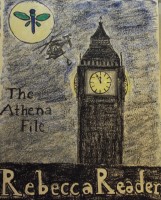 Athena, a ex-secret agent, tries to save her brother, Jack, from her crazy ex-boyfriend, Alex. Alex kidnaps Jack and takes him to London where he plans on killing him if Athena doesn't submit to his demands. As Athena is forced to make a decision her confidence is slowly being chipped away by worry and dread.
This thriller is about Athena, an ex-secret agent trying to protect her younger brother, Jack, from her psychopathic ex-boyfriend, Alex. Little does Jack know of her past occupation and Alex's intentions of kidnapping him. Athena is forced to go save her brother, and faces her past while trying to prevent her image of the future from becoming true. When she arrives on the scene where Alex threatens to kill Jack, Athena is stuck between choosing one of them to survive.
Price:
$9.99

USD
First 15% Sample:
epub
mobi (Kindle)
lrf