>> Tuesday, November 25, 2014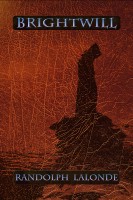 Naze the Great Wizard finally tells his students and fellows about his exploits with his long lost brother, Riv. Riv, the outcast, the Thief of the Enduring Light, the Slasher Goblin, is an unexpected sibling to Naze the Wizard. What the Great Wizard reveals is a tale of bold misadventure and a people facing extinction. No one will see him the same way again.
Brightwill, a land razed by war, on the verge of utter destruction.

There are few strongholds left, and few leaders who have the

vision and the power to protect their people.



Naze Kinu, the Great Wizard provides a stronghold for the most

talented young and old people in the lands. The Amber Refuge is

his life's work, a central stronghold built by his comrades, his

power and his reputation.



That is why, when he tells his long time aide, Doril, that he intends to

tell all about his secret sibling, Riv. His intentions are met with

alarm. Naze kept his relation to Riv a secret for half a century.

Riv, known in legend as the Slasher Gremlin, the Prince

Slayer, and the thief of the Enduring Light.



Despite the damage his revelation could do to his reputation,

Naze is set on telling the true story of his brother, of the days

that inspired the legend. Most of those close to him are left

to wonder why, and to listen as their leader regales them with

the tale of his misadventures with his brother and Oroza, the

dragonling.



This is the story of Naze and the brother he can no longer deny

this is the story of Brightwill in times of drastic change.
About Randolph Lalonde
Born in 1974, Randolph Lalonde has worked in customer service, sales, played drums for several heavy metal bands you've never heard of, dealt blackjack in a traveling casino, and serviced countless computers. He's also owned businesses in the design, printing, collectible and custom computer fields.



He completed writing his first novel in the fantasy adventure genre at the age of fifteen and has been writing ever since.



He self published his first novel;

Fate Cycle: Sins of the Past in 2004 and after taking a break has begun to release his work again starting with the First Light Chronicles series.



Randolph Lalonde has sold nearly one hundred thousand eBooks to date, enough to keep writing full time. He is deeply grateful for his following of readers and strives to improve his skills to better entertain them. The Spinward Fringe Space Opera series has proven to be his most popular offering.



He currently resides in Sudbury Ontario where he's working on a new fantasy novel due out in 2014.
First 14% Sample:
epub
mobi (Kindle)
lrf