>> Saturday, February 21, 2015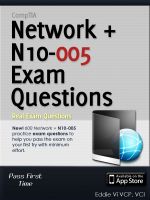 This book includes new sample questions never before in print to help with exam prep. Offering numerous sample questions available nowhere else, this book will help you pass the Network+ N10-005 exam on your first attempt.



The current version of CompTIA Network+, exam code N10-005, was released Dec. 1, 2011.
This book includes new sample questions never before in print to help with exam prep. Offering numerous sample questions available nowhere else, this book will help you pass the Network+ N10-005 exam on your first attempt.



Network+ Exams questions closely mimic those on the actual exam, so there won't be any surprises when you get to the testing centre. You will be able to chart your progress with multiple, full-length exams that simulate exams required to attain your qualifications.



Covers all exam topics:



Network Models:



OSI vs. TCP/IP;

Cabling and Topology;

Ethernet;

Physical Networks and Structured Cabling;

TCP/IP Basics; Routing;

TCP/IP Applications;

Network Naming;

Securing TCP/IP;

Advanced Networking Devices;

IPv6;

Remote Connections;

Wireless Connections;

Protecting your Network;

Network Management;

Virtualization;

Network Troubleshooting
First 10% Sample:
epub
mobi (Kindle)
lrf