>> Thursday, March 5, 2015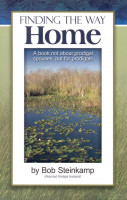 A book not about prodigals but for prodigals. In Finding The Way Home, returned prodigal Bob Steinkamp shares not only how you feel, but even greater, how you can be reconciled to God and to your spouse. "On the day that I suddenly remarried my wife over 20 years ago, I was in torment, needing a solution and not a sermon. These pages share what I needed to hear on that day." - Bob
Bob Steinkamp's book for prodigal spouses!



"On the day that I suddenly remarried my wife over 20 years ago, I was in torment, needing a solution and not a sermon. These pages share what I needed to hear on that day." - Bob



Someone does understand. In Finding The Way Home, returned prodigal Bob Steinkamp shares not only how you feel, but even greater, how you can be reconciled to God and to your spouse.



Bob writes from experience. In 1987 he and his wife, Charlyne, remarried following their divorce. Later they co-founded Rejoice Marriage Ministries, Inc., proclaiming around the world the good news that God heals hurting and dead marriages, regardless of the circumstances.



God has allowed Bob and Charlyne to write 19 books on the topic of marriage restoration, God's way. In each, they have written about prodigal spouses. In Finding The Way Home Bob writes to prodigals personally.



A NOTE FROM BOB -

This book was not written for you to send unsolicited to a prodigal spouse. The cause of your marriage restoration could be harmed, not helped, by doing so. We prodigals know what we are doing wrong, but we do not know how to escape the trap we are in. The book is intended for you to hand to your prodigal, at the right time, in response to their "No one knows how I feel" or "I could never come home" type of comment. You need to be praying and ask God to have that moment come soon.
First 20% Sample:
epub
mobi (Kindle)
lrf