>> Saturday, March 8, 2014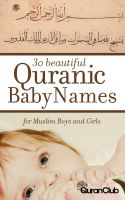 The Holy Quran is the most important source of inspiration for Muslims, and this accessible book selects from it 30 beautiful words that can be used as baby names. Detailed analysis of the names and related concepts are given when appropriate. This book will be of interest both to those researching a name for a newborn, and those seeking to increase their knowledge of Islam and the Quran.
About Ikram Kurdi
QuranClub is a collaborative Islamic blog that works to create a well-informed, spiritual, and active Muslim generation through intelligent ideas and analysis.



Ikram Kurdi is the managing editor of QuranClub.
Price: Free!
Download:
epub
|
mobi (Kindle)
|
pdf