>> Monday, March 10, 2014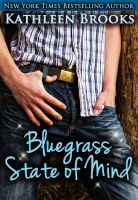 McKenna Mason is on the run, leaving her luxurious NYC lifestyle behind. She finds a home in beautiful Keeneston, KY where she starts her new job as an Assistant DA. She finds more than she bargains for when reuniting with a teenage crush, Will Ashton. Will's horse farm has seen its share of trouble leading up to the Derby. Can Will and McKenna work together to cross the finish line in time?
See where the USA Today Bestselling Author Kathleen Brooks began!



This is the first book in Kathleen Brooks' Best-Selling Bluegrass Series.



McKenna Mason, a New York City attorney with a love of all things Prada, is on the run from a group of powerful, dangerous men. McKenna turns to a teenage crush, Will Ashton, for help in starting a new life in beautiful horse country. She finds that Will is now a handsome, successful race horse farm owner. As the old flame is ignited, complications are aplenty in the form of a nasty ex-wife, an ex-boyfriend intent on killing her, and a feisty race horse who refuses to race without a kiss. Can Will and McKenna cross the finish line together, and more importantly, alive?
About Kathleen Brooks
Kathleen Brooks is a New York Times, Wall Street Journal, and USA Today bestselling author. Kathleen's stories are romantic suspense featuring strong female heroines, humor, and happily-ever-afters. Her Bluegrass Series and follow-up Bluegrass Brothers Series feature small town charm with quirky characters that have captured the hearts of readers around the world.



Kathleen is an animal lover who supports rescue organizations and other non-profit organizations, such as Friends and Vets Helping Pets, whose goals are to protect and save our four-legged family members.



Kathleen will begin a new series in 2014 called Women of Power. This series will follow the lives of successful businesswomen as they fight off dangers to their lives and careers while searching for true love.



Email Notice of New Releases: www.kathleen-brooks.com/new-release-notifications/

Kathleen's Website: www.kathleen-brooks.com

Facebook Page: www.facebook.com/KathleenBrooksAuthor

Twitter: www.twitter.com/BluegrassBrooks

Goodreads: www.goodreads.com/author/show/5101707.Kathleen_Brooks
Price: Free!
Download:
epub
|
mobi (Kindle)
|
pdf