>> Monday, March 10, 2014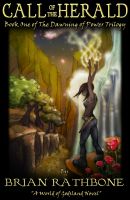 Book One of The Dawning of Power trilogy. Echoes of the ancients' power are distant memories, tattered and faded by the passage of eons, but that is about to change. A new dawn has arrived. Latent abilities, harbored in mankind's deepest fibers, wait to be unleashed. Ancient evils awaken, and old fears ignite the fires of war.
About Brian Rathbone
Brian Rathbone is a horse trainer turned author and creator of The World of Godsland fantasy series, which includes Call of the Herald, Inherited Danger, Dragon Ore, and Regent (Feral and Regal are forthcoming). He is also the author of the Sam Flock novels, a paranormal adventure series that begins with Lure.
Price: Free!
Download:
epub
|
mobi (Kindle)
|
pdf