>> Saturday, March 8, 2014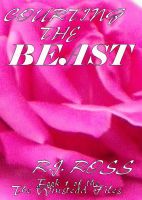 Book 1 of the Winstead Files. In "Courting the Beast" a tomboy princess is turned into a beast and the best looking guy in town has to save her! If he can beat her in basketball, that is. With fairytale curses going out of control and a know-it-all fairy godfather not doing much to help, who knows where the happy ending will come from?
About R.J. Ross
R.J. Ross started writing in junior high when she realized it could help her keep her A in English class. She hasn't stopped since.



Any comments or constructive criticisms are highly appreciated, so feel free to drop a note!



NEW! She's recently published a novel called Raven's Return on Amazon! Look for her under the name R.J. Ross in the kindle store!
Price: Free!
Download:
epub
|
mobi (Kindle)
|
pdf