>> Friday, March 7, 2014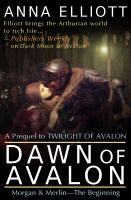 He would become the most powerful wizard in the history of Britain—Merlin. She would become Britain's most storied sorceress—Morgan le Fay. But before they were legends, they were young. And they were lovers. Together, in the sunlight of one day long ago, they saved a kingdom. Dawn of Avalon. A stand-alone story from the universe of Anna Elliott's Twilight of Avalon.
About Anna Elliott
The daughter of two English literature PhDs, Anna Elliott grew up in Connecticut in a house filled with books. She is a longtime devotee of historical fantasy and fell especially in love with Arthurian legend and Celtic history while at university. Anna now lives in the Washington, DC, Metro area with her husband and two daughters. She likes Jane Austen, British TV, Castle, Firefly, The Big Bang Theory, sewing toys for her children, and rainbows and unicorns, especially those drawn by her daughters. Mosquitos love her.
Price: Free!
Download:
epub
|
mobi (Kindle)
|
pdf