>> Thursday, March 6, 2014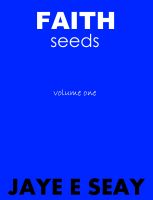 Faith Seeds: Volume One contains ten short devotional messages that were designed to ignite your faith. This ebook will help you as you grow in the Word of God. Each message takes only a few seconds to read but will leave you with powerful truths to consider. This ebook will lead you to delve into the living Word and spend some quality time with God.
About Jaye Seay
Jaye E. Seay is a Christian writer, specializing in devotional messages. Jaye is a graduate of both Hampton University and Howard University. Jaye is also a student at Rhema Correspondence Bible School.



Jaye's mission is to inspire faith and provide encouragement through the Word of God. Jaye's devotional messages and Christian books are an outgrowth of his tremendous love for God. Jaye is blessed to share what he has learned from his study of the Bible through a writing ministry. Jaye sincerely hopes that his writing will have a giant impact in the Kingdom of God.
Price: Free!
Download:
epub
|
mobi (Kindle)
|
pdf