>> Tuesday, March 11, 2014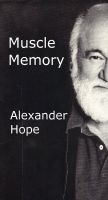 While seated, use these fourteen Muscle Memory exercises to tone your muscles and reboot your brain.
About Alexander Hope
I'm an old man who is ever so astonished by the human brain. In my long life I have owned many businesses; from a potato farm, a pumice mine, and a gold mine; to a casino, an insurance company, and a bank. I knew very little about the products of these many companies, with the exception of an acting school, but I was smart enough to hire brilliant people to make my ownership delightful.
Price: Free!
Download:
epub
|
mobi (Kindle)
|
pdf