>> Sunday, March 9, 2014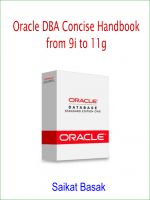 An Oracle DBA concise handbook. Covers 9i to 11g. Discusses Oracle database instance, file structure, backup recovery and performance tuning. Also includes a list of Oracle interview questions.



This ebook is best viewed in PDF format as it contains several diagrams in color.
Price: Free!