>> Tuesday, March 18, 2014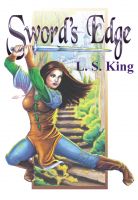 Can a lass overcome her self-doubt to uncover traitors who threaten her clan?
Fifteen-year-old Tam knows only the harshness of rigorous Ranger training at the hands of her reclusive, unloving father. Alcandhor, her clan's thane, recruits her as a spy, but is he wise to trust an untried girl for such an important task?



Alcandhor needs to discover who the traitors are before they assassinate key leaders and start a war. Tam is perfect for the job—but will her inexperience and youth endanger not only her mission, but her own life?
About L. S. King
L. S. King has been published in Deep Magic, The Sword Review, Dragons, Knights & Angels, Digital Dragon Magazine, Residential Aliens, and more. Two of her stories were selected for The Sword Review's "Best of..." Anthologies. She has worked as a submissions editor and a copy editor on several magazines and was a founding editor of the online magazine, Ray Gun Revival.



She currently is working on novels in the Deuces Wild series and the Gifts of the Elders series.
Price: $6.99 USD
First 20% Sample:
epub
|
mobi (Kindle)
|
lrf