>> Thursday, March 6, 2014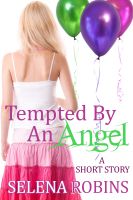 A romantic comedy short story about two people who become victims of un-synchronized mishaps.



Matt Lockwood hired entertainment for his young nephew's party, instead an Angel showed up, wearing killer heels, carrying a bouquet of balloons and a body that was heavenly—with an attitude that was anything but.



Unfortunately for Angel Montgomery, life doesn't have auto-correct.
About Selena Robins
Genre-defying, witty, humorous, suspenseful, romantic and sexy— words used to describe Selena's novels. A self-professed foodie and chocolate guru, Selena loves to dance with her dog, sing into her hairbrush and write in her PJ's. In love with her family, friends, books, laughter, hockey, lively discussions and red wine (sometimes all at the same time). Selena is a dragon slayer who enjoys reading and writing sassy heroines and hot heroes (the ones your mamma warned you about, but secretly wished she'd dated a few in her life).
Price: Free!
Download:
epub
|
mobi (Kindle)
|
pdf