>> Wednesday, March 12, 2014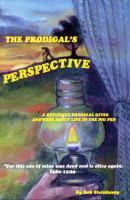 "What is my prodigal spouse thinking?" abandoned spouses want to know. In this one-of-a-kind book, returned prodigal Bob Steinkamp answers the questions about what he was thinking and doing while he and his wife were divorced, and then as God was restoring their marriage. You will search far for a book that is this open about the prodigal experience.
Bob and Charlyne were divorced after 19 years of marriage. Their three children became victims of a broken home as Bob became a prodigal spouse and left for the far country. Neither of the Steinkamps realized that Satan desires to break up families and destroy marriages.



Charlyne searched the scriptures and discovered that God hates divorce. She found that our Lord Jesus Christ restores and rebuilds marriages, when a mate will love the prodigal unconditionally, as Christ loves us. Charlyne committed herself to a sacrificial stand for the restoration of their marriage. To the glory of God, they were remarried to each other on July 7, 1987.



Today, God allows the Steinkamps to minister His love, forgiveness, and restoration to others with broken marriages. A newsletter is distributed nationwide. Charlyne Cares, a daily devotional, is sent free of charge by email to thousands of subscribers worldwide who are standing for God's restoration of their marriages. They desire to be an encouragement as you stand for the healing of your marriage.



During the last twenty years of marriage ministry, the question Bob has been asked most often has been, "What is it like for my prodigal spouse?" In The Prodigal's Perspective, Bob gives answers from his heart to dozens of questions that are on the hearts of men and women standing with God for marriage restoration.



If you are seeking marriage restoration, you will be grateful for this book. If you are a prodigal, you will be amazed that other men and women have been right where you are today. Both prodigals and standers will rejoice that our Lord God can make a way out of the "far country."
Price: $8.99 USD
First 20% Sample:
epub
|
mobi (Kindle)
|
lrf