>> Tuesday, March 4, 2014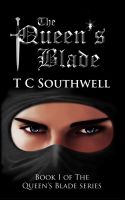 A doomed kingdom, a young queen's sacrifice and a killer who will bring an empire to its knees...



In a world where men share kindred with beasts, an ageless seer predicts a child who will end the Endless War. One man is the instrument who will change fate. He will usher in a time of strife and pain that will live in legend, and forever bear his name... the time of the Queen's Blade.
About T C Southwell
T. C. Southwell was born in Sri Lanka and moved to the Seychelles when she was a baby. She spent her formative years exploring the islands – mostly alone. Naturally, her imagination flourished and she developed a keen love of other worlds. The family travelled through Europe and Africa and, after the death of her father, settled in South Africa.



T. C. Southwell has written over thirty fantasy and science fiction novels, as well as five screenplays. Her hobbies include motorcycling, horse riding and art, and she is now a full-time writer.
Price: Free!
Download:
epub
|
mobi (Kindle)
|
pdf