>> Sunday, March 9, 2014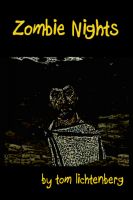 Being a zombie, not so easy. That could have been Dave Connor's six word memoir. "At first he couldn't remember how he'd ended up in that shallow grave; he just knew it was hell to claw his way out, and that the taste of its dirt would remain in his mouth for the rest of his time on this earth" ... Expect the unexpected in this existential resurrection thriller.
About Tom Lichtenberg
"Author of curiously engaging novellas. His stories are not driven by action but by mood and metaphysics. His premises often begin with fairly standard, often vaguely science-fiction concepts, but he spins those concepts out into melancholy, thoughtful tales in which he explores the emotion and (often) dislocation that people feel when confronted by something outside their normal experience." - Devon Kappa
Price: Free!
Download:
epub
|
mobi (Kindle)
|
pdf