>> Wednesday, April 9, 2014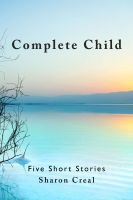 A collection of literary short fiction, Complete Child looks at a variety of contemporary urbanites who find sometimes the only way past a baffling situation is through it.
In this fiction collection by Sharon Creal, contemporary urbanites explore baffling situations and find even more surprising truths: a mother realizes her son is intimately acquainted with a friend's death; a woman leaves her perfectly adequate husband for a woman baker who keeps disappearing; a couple arrives at their country house expecting only to grieve by skating; a heavy drinker makes plans; and a photo archivist discovers an apparently perfect man in Florida who turns out to be her New York City neighbor. Set in New York and Los Angeles, these stories feature a variety of strangers – straight, lesbian, married, single, men, women – who might live close enough to jostle each other, deciding where next to step.
About Sharon Creal
Sharon Creal lives in Los Angeles, in the port town of San Pedro. She has an MFA in Creative Writing from The New School in New York City and her BA in English came from Drew University, home of the New Jersey Shakespeare Festival. Sharon is working on other stories, a novella, and a poetry collection. The short story collection "Complete Child" is her first Smashwords publication.
Price: $2.99 USD
First 7% Sample:
epub
|
mobi (Kindle)
|
lrf