>> Tuesday, April 15, 2014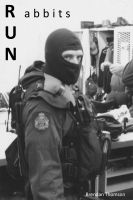 In the Federal Circuit Court a Whistle-Blower's small claim has sprung the lid on the unsavoury corporate culture of one of Australia's most powerful and secretive government Agencies, the Australian Federal Police. It is a lesson to all those in positions of power that no person or agency is above the law.
When highly trained Federal Agent Brendan Thomson turns whistle-blower a David and Goliath battle erupts in the Federal Circuit Court. Unrepresented and dismissed by the Union, Sergeant Thomson alone, takes on the might and power of the Commissioner of Police and summons the Australian Federal Police legal machine to Court. The conduct and the integrity of Australia's self-proclaimed premier law enforcement agency, the AFP , is dragged kicking and screaming into public view. Under the bright lights, what floats to the surface is the rancid corporate culture of deception and workplace intimidation which has refused the payment of upwards of 4.5 million dollars of staff wages.

On the back of Sgt Thomson's experience he calls for reform through wide spread legal action against the AFP and gives his reader the precise details and instructions to assess their own claim and launch legal proceedings. It is well used template, familiar to those that operate in the police and military. Clear concise and now proven in court. Knowledge is power and every worker should head such advice, if they want to protect themselves from workplace abuse and maladministration.
Price: $3.99 USD
First 20% Sample:
epub
|
mobi (Kindle)
|
lrf