>> Thursday, May 22, 2014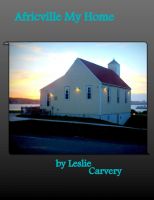 A love story set in a small Black community in Nova Scotia in the 1950's..
A love story rooted in the community of Africville, the heart of Halifax Nova Scotia. Leslie Carvery spins a tale of fiction from stories and tales heard from her father's community. The romance of Hope Carver and Vinny Byers, the story of Nelson Carver coming of age, and the eventful destruction of the town bring the life and energy of Africville to it's legacy. This lovely tale will feel familiar as it captures the small on goings and momentous occasions of a small Black community in the 50's.
Price: $6.99 USD
First 20% Sample:
epub
|
mobi (Kindle)
|
lrf