>> Monday, June 2, 2014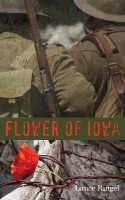 Flower of Iowa takes place against the turbulent backdrop of World War I. In France during the final months of the war in 1918, young American Tommy Flowers juggles the challenges of life in the trenches with an unexpected attraction to British soldier David Pearson. The men must navigate this revelation as the war reaches a crescendo. Flower of Iowa is a tale of love, bravery and tragedy.
To commemorate the 100th anniversary of the beginning of World War I this August, we proudly announce the publication of Flower of Iowa by Lance Ringel. In the tradition of historical novels about the epic war that tore Europe in half, Flower of Iowa is a sprawling tale of battle, courage, the resilience of the human spirit and the transformative power of love. This unforgettable book recalls Hemingway's A Farewell to Arms, if that classic tale of love and war had featured two men at the bruised heart of the story.

Taking place in France during the final months of the bloody war in 1918, Flower of Iowa focuses on American soldier Tommy Flowers. As the naïve young man struggles to learn how to be a good soldier, he becomes attracted to Nicole Lacroix, a young French barmaid. However, Flowers finds himself in a rivalry for her affections with his brash Australian lieutenant, Jamie Colbeck.

At the same time, Tommy befriends British soldier David Pearson – a friendship that soon develops an unexpected intimacy. Baffled by their feelings, but committed to exploring them further, Tommy and David do everything to spend time together, even after David is wounded and sent home to England to convalesce. When Tommy and David are parted again by the war, a compassionate nurse, Sister Jean Anderson, generously devises a scheme by which she will secretly shuttle love letters between the pair until they can reunite.

Equally tragic and hopeful, dramatically stirring and historically faithful, Flower of Iowa takes its place among the memorable novels about the Great War, distinguishing itself with a gallery of compelling characters, meticulous research and exhilarating storytelling that vividly captures the war that changed the world forever.

Flower of Iowa is the first published novel by veteran journalist and writer Lance Ringel. Long fascinated with The Great War (as WWI was called at the time), Ringel first began work on the book in 1992 at the height of the controversy surrounding President Bill Clinton's campaign promise to repeal "Don't Ask, Don't Tell." Ringel envisioned a saga that examined a relationship between two soldiers set against the backdrop of WWI. This idea launched him into a five-year journey across America and through Europe in a quest to make sure that Flower of Iowa was as historically accurate as possible. Ringel visited former battlefields across the French countryside, their surrounding towns, as well as numerous museums in Europe and the United States.

While the first draft of Flower of Iowa was completed in 1997, Ringel continued to make periodic revisions of the manuscript over the past 17 years. However, as the centenary of World War I drew near, the author decided it was the perfect time to share his book with the huge audience of WWI enthusiasts in America and around the world.
About Lance Ringel
A journalist and writer for four decades, Lance Ringel has penned five novels and three plays. At Vassar College, where he has worked for 14 years, he served as principal writer for Vassar Voices, a staged reading honoring the college's sesquicentennial. It debuted at Lincoln Center, starring Meryl Streep, Lisa Kudrow and Frances Sternhagen and subsequently toured America and London. Ringel also wrote the narrative for At Home in the World, a music-and-words collaboration directed by John Caird that recently played across Japan. Ringel has had an impressive career in politics as well, serving as Assistant Commissioner of Human Rights under New York Governor Mario Cuomo. A native of central Illinois, Ringel currently resides in Poughkeepsie, New York, with his spouse of 37 years, actor-composer Chuck Muckle. Flower of Iowa is his first published work.
Price: $4.95 USD
First 15% Sample:
epub
|
mobi (Kindle)
|
lrf